Monthly Volunteer Day
It's Our Park Day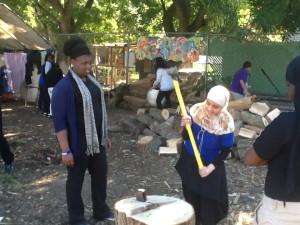 Saturday October 24
11am to 2PM or so
Brook Park, East 141st Street and Brook Avenue
With Indigenous Arts & Cultural Committee
Come visit us, see what we are growing and learn about out mission to build a healthy, happy, socially engaged community. Please bring food and water, your family and friends and come hang out in our beautiful garden, farm, park. Youth are always welcome! And for any interested regular volunteers out there, opportunities are still available!
For those of you new to Friends of Brook Park, we're on a mission to build a healthy, happy, socially engaged community. We know that growing your own food is rated as one of the top 5 things you can do to improve your well-being and nourish your body. Over the years we're transforming a .75 acre vacant lot into a vibrant hub, hosting workshops and events all centered around health, wellness and urban agriculture. We hope you'll join us!
Volunteering with Friends of Brook Park green team crew is a wonderful way to support the work that we do while experiencing the magic of growing food and experiencing Nature in the South Bronx. We welcome all levels of gardening experience. The only requirements are an observant mind, a curious spirit, a love of dirty hands, and a willingness to work in rain or shine.
All hands on deck! Come support Friends of Brook Park at our monthly garden volunteer day. Help clean up the garden, weed, plant bulbs, rake and shovel to support outdoor learning for children, students and adults and our whole community.
Seeking people to be at our sign-in table that day for one hour shifts, let us know if you can help that way too!  Email us to let us know.  You can take a whole bunch of kale in thanks!